Tips til at vælge den bedste rygsæk til din Camino
Fecha: 2018-06-18
Du har allerede besluttet, du skal gå eller cykle Camino de Santiago! Det eneste du nu skal gøre er at forberede din rygsæk og de ting du bør have med dig på dette fantastiske eventyr.
Det er her at en ​​de største hovedpiner for fremtidige pilgrimme begynder. Rygsækjunglen er stor og nærmest uoverskuelig, da der findes rygsække af mange typer, af forskellige farver og mærker, med forskellige kapaciteter ... hvordan man vælger den rigtige?
Det store flertal af førstegangs pilgrimme tillægger normalt ikke valget særlig stor betydning og mange ender med at vælge ud fra pris i stedet for detaljer og komfort.
At vælge den rigtige rygsæk til Camino de Santiago er en af ​​de vigtigste beslutninger man skal tage før eventyret begynder, især hvis du selv skal bære på det hele vejen (vi kan fragte det fra sted til sted for dig, hvis du ønsker).
Her er tre vigtige egenskaber for din Camino rygsæk:
1) VÆGT: Rygsækken skal være let, den tomme vægt må ikke overstige 1,5-2 kg. Det anbefales altid, at man ikke bære mere end 10% af ens kropsvægt, så rygsækkens vægt er en vigtig detalje.
2) STØRRELSE: Man kan falde i fristelsen til at bære en rygsæksom er stor nok til at tage endnu flere ting med. Men det vigtigste er, at vælge den mest passende størrelse afhængigt af rutenes længde og den tid du er afsted på Caminoen. Mellem 35 og 60 liter er de mest passende størrelser. Det meste af året vil det dog være tilstrækkeligt med en størrelse på mellem 35 og 45 liter og kun i de koldeste måneder mellem 50 og 60 liter, da du har brug for mere plads til varmt tøj. Idealet er at gå så let som muligt og kun bære det væsentlige.
Størrelsen afhænger ligedeledes af, hvordan du skal overnatte. Overnatter du på herberge og skal medbringe sovepose, håndklæde mv. bør tasken ligge i den høje end - ca. 45 liter. Overnatter du på steder med de faciliteter er ca. 35 liter som oftest rigeligt.
3) SKULDERSTROPPER: De skal polstres og korses på bryst og skuldre, så de kan understøtte vægten bedre.
4) JUSTERING OG STRAPS: For at undgå muskelskader og gå komfortabelt skal du bære rygsækken helt fastgjort på ryggen, og derfor er det vigtigt at have justerbare stropper. Bælte, skulderstrop, fastgørelsesrem, brystlukning, bøjler til støtte af hænder og elastikbånd til fastgørelse af genstande, er afgørende.
5) REGNSLAG: Det er vigtigt at du kan trække et regntæt slag over din rygsæk, og som kan tilpasses således det ikke blæser væk i stærk vind. I løbet af de valgte dage er det sandsynligt, at du på et tidspunkt går gennem regn og blæst og et vandtæt oversække kan forhindre din bagage i at blive våd.
6) BRYSTBÆLTE: dette giver dig mulighed for at afbalancere vægten endnu bedre.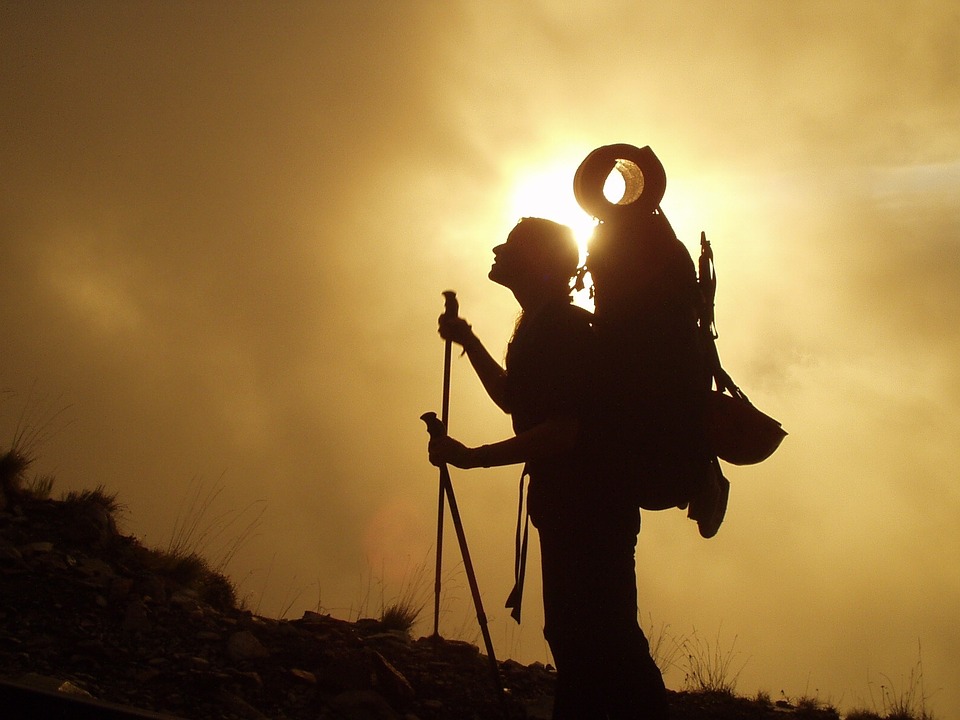 7) RYGVENTILATION: Da rygsækken skal sidde fast på ryggen er det vigtigt, at ryggen kan ventileres.

8) ELASTISKE STRAPS: De gør at at holdes på plads. De justerer og komprimerer indholdet af rygsækken. De forhindrer dig i at have løse ting som bevæge sig når du går.

9) SYNINGER: Kontroller at syningerne er solide, da det ofte er dem som går i stykker og bliver udsat for slid.

10) EKSTERNE RUM: For at undgå at skulle tømme rygsækken eller at skulle gennemsøge hele ens bagage anbefales det, at rygsækken har ydre rum, der giver dig nem adgang til genstande eller elementer som vandflaske, solcreme, hat mv.

Sidst men ikke mindst: Prøv den før du rejser afsted: Få uger før du starter Camino de Santiago, prøv at forberede din bagage og gå med den anslåede vægt, du har tænkt dig at bære. Denne test tjener til at måle din styrke og genoverveje vægten, hvis den virker for tung.

Bare rolig, hvis du føler at der er mange detaljer. Den bedste rygsæk til Caminoen er en, der har en kapacitet ca. 45 liter (hvis du bærer sovepose mv.) , en god lændebøjle, ramme og passende lændebælte. Dem, der opfylder de krav, har normalt styr på de øvrige detaljer.

Nu er du klar til at forberede din Camino de Santiago. Buen Camino!