Detaljeret information om Transcantabrico Gran Lujo
Læs detaljeret information om rejserne med Transcantábrico Gran Lujo-toget i Nordspanien.
2021-12-01
On board El Transcantábrico Gran Lujo one enjoys not only the surprisingly large interiors, but also a personalised attention, premium services and exclusive activities that will turn this journey into a truly delightful experience.
Kuper/værelser 'Deluxe Suites'
Ombord kan vælges mellem dobbeltseng på 150x200 cm, eller to enkeltsenge på hver 85x200. (twin beds). Sofaen kan omdannes til en seng på 85x180 cm.
Large rooms with a comfortable 2-metre long double bed (or twin beds), wardrobe, luggage rack, desk, safe and minibar, as well as state-of-the-art comforts such as LED screens, in-room music tuner, climate control, multimedia computer with free Internet access and telephone.

Deluxe Suites also have a living room with sofa which can be turned into a bed, large windows and a stunning spacious ensuite bathroom, with hydromassage shower/steam sauna, hairdryer and a varied set of welcome items with an exclusive fragrance.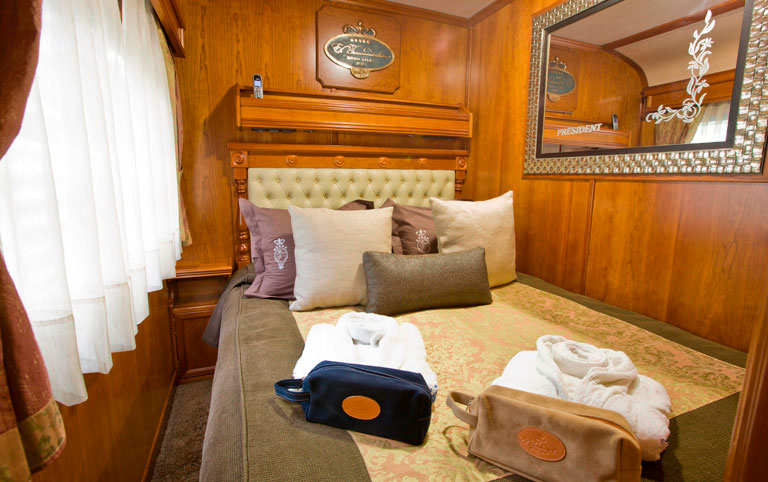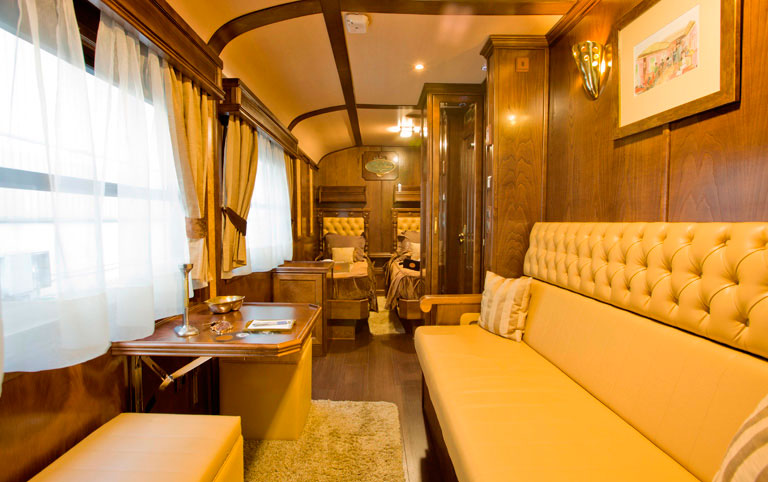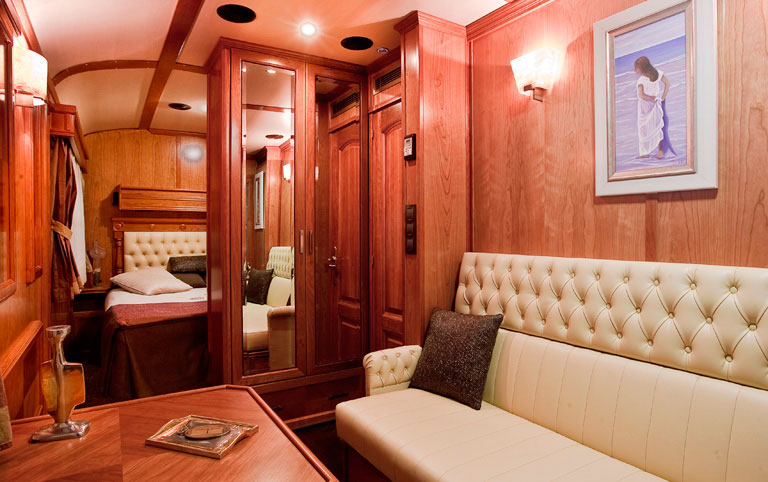 Turen inkluderer
Accommodation onboard in Deluxe Suite.
The option of enjoying two private lunches/dinners in the comfort of their cabin.
All non-alcoholic drinks available in the cabin's minibar (complimentary).
The crew may unpack your luggage onto the wardrobe on arrival and pack it back on the last day.
A la carte and buffet breakfasts every day.
All dinners and lunches, with the finest cuisine aboard the train or in top restaurants (including wine, water, soft drinks and coffee).
Welcome drink and snack.
Farewell dinner – gala party.
Traveling toiletries bag courtesy of Renfe Viajeros (with amenities and slippers).
Free mineral water available in the cabin's minibar.
Activities on board: music and live performances, parties in the pub car, show cooking and cocktails, dancing, etc.
Tickets to museums, attractions and shows.
Excursions and scheduled tours.
Luxury coach accompanying the train along the trip.
Two Renfe train tickets with a 50% discount: one to the starting point and the other back from the end of the tourist trip.
Taxes and services.
Daily newspapers and magazines.
Security service.
Multilingual guide throughout the tour.
Excellent crew available (Expedition Leader, guide, waiters, cooks, technicians, etc).
Gastronomien
Both in the dining cars or in the distinguished restaurants along the route, the gastronomy is the responsibility of the most renowned kitchens and chefs of northern Spain, an area already ranked among the best in Europe for the quality of both its professionals and its products.
The journey itself is a tour of the gastronomic identities of Galicia, Asturias, Cantabria and the Basque Country, where different cultures have inhabited, each leaving their own trait on the typical flavours of Northern Spain. A culinary tradition renewed and reworked by internationally famous chefs, which travellers will enjoy along the route.
Our fine buffet breakfast is complemented by the personalised attention of our waiters. Local specialties will be presented during the tour in the form of sweets, tortillas, pies, cheeses, cold meats, etc., thereby ensuring that every day is different and original - even at the breakfast table.
Lunches and dinners will be served both in the elegant train dining cars and at respected restaurants that make up our selection of restaurants during the journey. The innovative cuisine of Northern Spain and the traditional recipes of Castile are the centrepieces of this culinary and cultural trip. Dishes like Asturian fabada (stew), mountain cocido, baked fish, desserts like frixuelos (local crepes) or Mondoñedo tart, renowned Galician seafood or anchovies from Cantabria are just a small sample of the extensive and mouth-watering culinary offerings onboard El Transcantábrico Gran Lujo. All of this paired with the finest wines from different wine regions in northern Spain.
Menus are set in advance, seeking a balance between the traditional cuisine of each area, the creativity of our professionals, and the innovation that has made Spanish chefs famous internationally. Nevertheless, special food requirements due to health or personal choice shall be addressed without prejudice to the quality of meals on offer. All you need to do is notify us - preferably at the time of booking - to ensure that your culinary needs are catered for on the journey.
Livet ombord på Transcantabrico
For seven nights and eight days the Transcantábrico Gran Lujo will become your living room, your means of transportation, your socialising place, your bar, your bedroom: a hotel on wheels in which you sleep and wake up in a different place every day. The landscape passing by the window of your suite or the lounge where you are having a coffee is never the same. That simple fact makes the trip itself unique and unlike any other experience.
To ensure passengers a good night's rest, the train will remain parked at a station at night. The train lounges are especially designed for relaxation and unfettered enjoyment of the evocative ambience, also offering the chance of sharing the company of fellow travellers. Many friendships have been formed over a drink onboard El Transcantabrico.
After dinner, an evening of entertainment. Every night is party night, with various live performances throughout the trip. Given the length of the train, these will not affect those who prefer retiring earlier to the privacy of their suite. You can also choose to have a quiet drink on one of the other saloon cars, or go for a stroll in whichever town we are spending the night. The train will remain parked at the station until the next morning.
In general, comfortable clothing and shoes are recommended for the daytime when we will be out and about on our excursions, while at night you can opt for more formal attire, although no particular dress code is required at any time. The only exception is for gaining access to the Casino de Santander on the routes that include that city, where there is a requirement for more elegant dress (suit and tie are not required, but shorts or trainers, for instance, are not allowed).
Anden information om rejsen
DOCUMENTATION
All travellers must have documents confirming their identity. For foreigners, the documentation required for travelling by train is the same as that required to enter Spain from the country of origin. Spanish citizens may use their national ID cards or passports.
MONEY
The legal currency in Spain is the Euros. There is no obligation to tip.
MEDICINES AND HEALTHCARE
In Spain, medicines are purchased at pharmacies. Travellers from EU countries or states that have agreements in place with Spain, will benefit from the same pharmaceutical benefits as Spanish citizens. All trains have a first aid kit onboard, and the crew has been trained to use it. Furthermore, we are in continuous contact with health centres located along the different routes, in the case a traveller needs special medical attention.
VACCINES
No vaccination is necessary in Spain; nevertheless, as anywhere in the world, it is advisable to have had a recent tetanus jab and have undertaken the official immunisation vaccines.
TOBACCO
Smoking is prohibited in Spain in all enclosed public spaces (including public vehicles and public transport). Therefore, while on board, according to the current legislation travellers must refrain from smoking. However, each train journey stretch do not exceed 3-4 hours.
SECURITY
Overall, Spain is one of the safest countries in Europe for tourists. Our trains have a security service and a safe on board, in addition to security surveillance at all stations along the way.
INTERNET / WIFI
The El Transcantábrico Clásico, El Transcantábrico Gran Lujo, Tren Al Ándalus and the El Expreso de La Robla trains have WiFi Internet and a computer in their social carriages so travellers can access the Internet, check email, etc. All cabins in the El Transcantabrico Clásico and El Transcantábrico Gran Lujo also feature WiFi connection (subject to coverage).
If you want to call abroad from Spain you must dial 00 followed by the country code and telephone number. If you wish to call a number in Spain from abroad, dial +34 (the country code for Spain) and then the 9-digit telephone number.
We recommend that foreign travellers wishing to use their mobile phones contact their operator to activate the international roaming service and enquire about costs.
TRAVEL INSURANCE
Travellers on the Luxury Tourist Trains are only covered by the Compulsory Passenger Insurance (SOV in Spanish). Therefore it is advisable to take out specific travel insurance to cover cancellation, off-board accidents, illness or similar incidents, as recommended by your travel agent or insurer.
ACCESSIBILITY
Although all our Luxury Tourist Trains are refurbished and equipped with the latest technology, they are still vintage pieces; their interiors are laid out in a way that makes it impossible to move around on wheelchairs or walkers.
Nevertheless travel would be possible for a person with reduced mobility who is reasonably self-sufficient or travelling together with another passenger, and who only requires the support of a wheelchair once off the train. In this case, if so desired and giving reasonable notice when booking, a wheelchair can be made available to the client. It is however important that such persons do not travel unassisted, and that their travel companion is available to help on and off the train, pushing the wheelchair etc, as there is no dedicated staff available for this purpose.
MINORS
When travelling with a child, a supplement or set price depending on the chosen train, will be charged. The Reservation Centre for Tourist Trains will be able to inform you of the possible accommodation arrangements and special prices in these cases.
Only the cabins in El Transcantabrico Gran Lujo and the Tren Al Andalus' Deluxe Suites offer enough space for parents to place their own travel cot or to have an extra bed.
PETS
No pets are allowed, other than guide dogs accompanying their owner.
POWER SUPPLY
The power supply in Spain is 230V 50Hz, with Type F round 2-prong plug outlets.
BESÆTNINGEN
The crew on our Luxury Tourist Trains consists of a team of professionals trained and ready to provide a perfect and personalised attention in different languages.
The team is led by the Trip Supervisor, who is responsible for bringing this rail cruise safely into port. This person can count on the help of all the other crew: the driver, guide, head waiter, cooks and waiters, music and entertainment organiser, maintenance personnel, bus driver and security staff, who will all make sure that passengers have nothing to do other than enjoy their journey.
The Trip Supervisor and the guide will become inseparable companions of the group, accompanying travellers throughout the journey and offering whatever information and advice they may need. The varied entertainment schedule onboard, in turn, will ensure an engaging and enjoyable time, encouraging the active participation of passengers.
All our crew, in coordination with the Trip Supervisor, are available for travellers 24/7, ensuring the same high level of quality and personal attention inside and outside the train.
BESØG OG TURE
During our journey we will visit and explore places by the sea or in the mountains, charming squares and streets, museums, cathedrals, wine cellars and ports; many stories will be revealed by our multilingual guides, accompanying us on each trip. Lunch will be the central event of the day, and in the afternoons we will alternate more excursions with activities on board the train, or just enjoy the scenery passing by before our eyes.
BASQUE COUNTRY
VISIT THE TOURISM WEBSITE
CASTILE AND LEÓN
VISIT THE TOURISM WEBSITE
CANTABRIA
VISIT THE TOURISM WEBSITE
Santander

Potes

Cabezón de la Sal

Santillana del Mar
ASTURIAS
VISIT THE TOURISM WEBSITE
Ribadesella

Arriondas

Cangas de Onís

Oviedo

Candás

Avilés

Gijón

Luarca
GALICIA
VISIT THE TOURISM WEBSITE
Ribadeo

Viveiro

Santiago de Compostela
Tilbage